Alexandria, La. –  (August 5, 2022) RoyOMartin interns delivered their end-of-summer presentations to the company's executive team and their supervisors. The students spent the summer learning the practical application of their chosen fields of study while troubleshooting and completing projects as assigned. The presentations were an overview of the assignments each student completed.
The 12 interns representing Louisiana Tech University, LSU, LSU-Alexandria, McNeese State University, and Northwestern State University worked across company locations throughout the summer. They worked in the fields of human resources, communications, supply chain, health services, engineering, and land and timber.
Interns are pictured with RoyOMartin President and COO E. Scott Poole (center).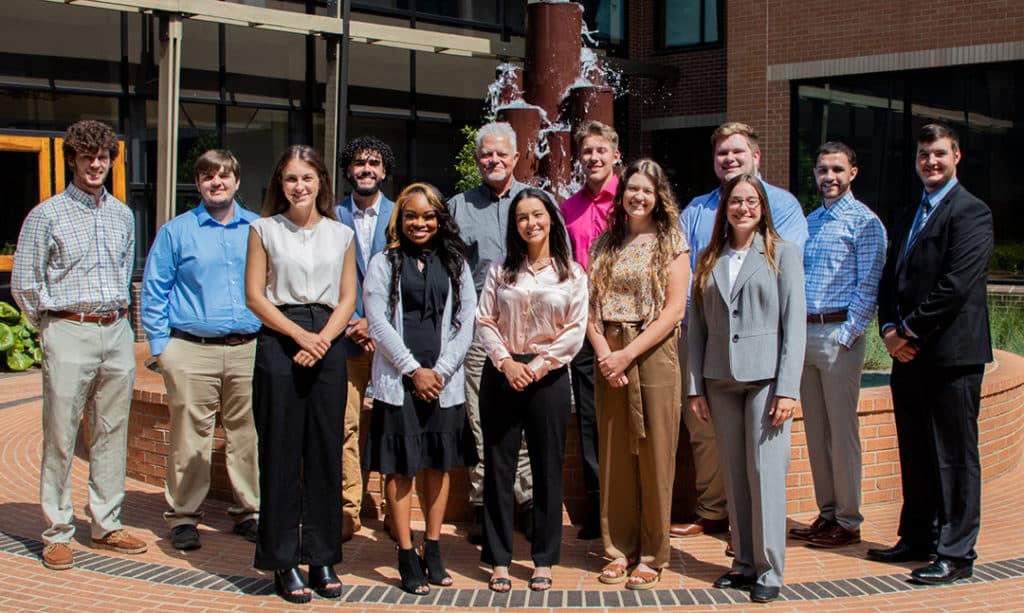 Back Row: Jackson Harris (LSU) – Engineering; Jared Wellman (NSU) – Engineering; Cayden Reynolds (LSUA) – Communications; Poole; Harrel Thompson (LA Tech) – Engineering; Hunter James (LA Tech) – Logistics; Nicholas Pavelka (McNeese) – Engineering; and Hayden Smith (LA Tech) – Forestry
Front Row: Sydney Bolton (LSU) – IT/Human Resources; Nichelle Weaver (NSU) – Nursing;  Morgan Rogers (LSU) – Human Resources; Cassie McKenzie (LA Tech) – Forestry; and Chloe Chandler (LA Tech) – Forestry