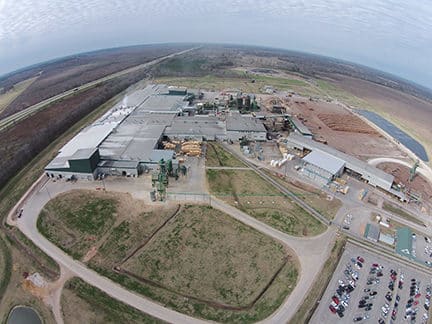 Chopin, LA – (July 30, 2018) – Today, Gov. John Bel Edwards and RoyOMartin President and CEO Roy O. Martin III announced the company will invest $8 million at its Chopin plywood and solid wood plant to install a new dry kiln designed to increase timber production. Additionally, the company will connect to natural gas pipelines, increase log in-feed and out-feed capacity, and expand the facility's shipping and finishing area. With the new investment, the company will create 14 new direct jobs, with an average annual salary of more than $46,800, plus benefits. The company will retain 680 existing jobs at the site, and Louisiana Economic Development estimates the project will result in 40 new indirect jobs, for a total of more than 50 new jobs in the region.
RoyOMartin, headquartered in Alexandria, Louisiana, is the trade name of Martco LLC, which operates the Chopin plant. The company's modernization efforts in Chopin will include upgrades to scanning software and hardware, and upgrades to automated systems, including programmable linear controls and motor variable-frequency drives.
"The continued investment by RoyOMartin in Central Louisiana is a demonstration of the tremendous success that can be found in our state," Gov. Edwards said. "With a highly skilled workforce and an abundance of natural resources, RoyOMartin has become a leader in the timber industry and a major economic driver for Louisiana. We are proud that this company continues to invest in our state, build on its leadership role, and create great new jobs for our people."
To view the full press release from Louisiana Economic Development, click here.