RoyOMartin announced the winner and nominees for its 2022 Innovation Award. Allan Patterson from our plywood manufacturing facility was named the recipient of the top prize for his route-and-fill defect detection project. By programming the system to monitor the patching of plywood panels, Allan's design resulted in a reduction in downfall on siding and patch line-related issues.
Seven team members were also nominated for the Innovation Award for their enterprising projects:
John Aymond (Plywood), stacker over current shutdown

Jeff Greene (Plywood), auto sheet drop reject – LUL lines

Donald Holman (Plywood), nip roll design – unloader 6 and 7

Charles Lessing (Oakdale OSB), gravity-operated doors

Adam Lowther (Corrigan OSB), RFID tag implementation

Blake Morris (Corrigan OSB), automatic check implementation

Marcus Rhodes (Plywood), XY and charger chuck modification

Congratulations, Allan, and all the nominees! Your innovative thinking develops a safer and more productive environment, which is our organization's topmost priority.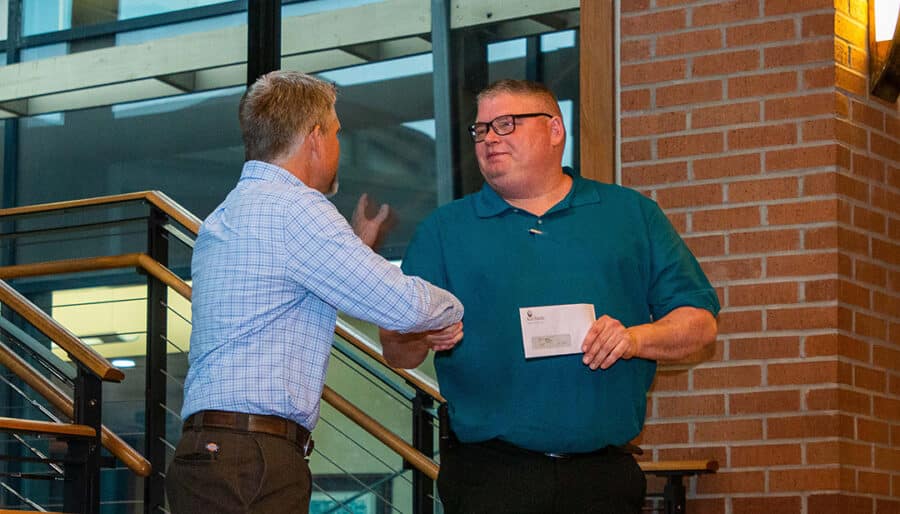 Vice President of Plywood Jeremy Burford (left) presents Allan Patterson with the 2022 Innovation Award.