Alexandria, La. – (June 14, 2019) – RoyOMartin was honored with two awards at the Central Louisiana Regional Chamber of Commerce's annual Bizzy Awards this evening: the Cleco Innovation Award and the first-ever Rapides Regional Medical Center Community Benefit Award.
Presented by Cleco President and CEO Bill Fontenot and Rapides Regional Medical Center CEO Jason Cobb, respectively, both awards recognized our company's people-centered values and contributions to improve the communities in which we operate, such as through workforce-development initiatives and employee benefits, as well as charitable giving and volunteerism. Jonathan E. Martin, chairman of Martin Sustainable Resources L.L.C., accepted the awards on the company's behalf, giving thanks to God for His many blessings.
"It is so important that companies center around innovation with their most important asset, its people," said Fontenot, upon presenting the Innovation Award. "Having new ideas about how to motivate and drive care and dedication of employees to ensure a company's success takes creativity and innovation." He cited examples of RoyOMartin employee-development initiatives and benefits, such as Legacy Pharmacy and Legacy Health & Wellness, Martin Foundation scholarships, WoodWorks, Pay for Knowledge and Skills, and others.
When presenting the Community Benefit Award, Cobb named several philanthropic causes with which RoyOMartin is affiliated, such as the Louisiana Baptist Children's Home and Family Ministries and the Martin Foundation Scholarship program."RoyOMartin's leadership and employees provide a stellar level of value and service to the central Louisiana community," stated Cobb.
To close out the ceremony, Martin had the honor of presenting the 2019 RoyOMartin Best Overall Business Award—which RoyOMartin received in 2013 at the first Bizzy Awards—to Procter & Gamble. We congratulate all of the awards recipients on their achievements!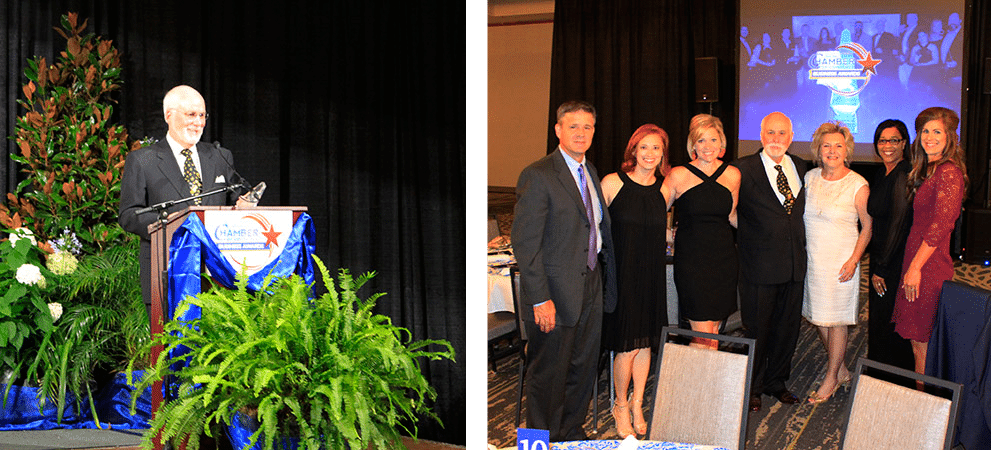 For additional information, visit the KALB website.