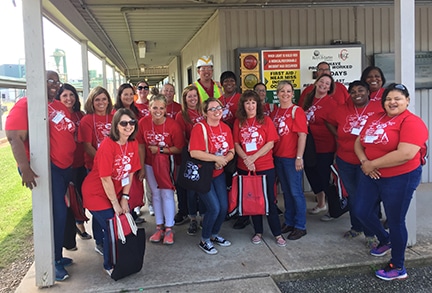 Alexandria, LA – (June 8, 2018) – RoyOMartin helped facilitate the Workplace Experience Exchange (WEE) Camp for Teachers this week. Part of The Orchard Foundation's College and Career Readiness Initiative and funded by a grant from The Rapides Foundation, "WEE Camp is a unique professional-development opportunity for junior-high and high-school teachers that connects the classroom to the workplace," explained Stephanie Moreau, coordinator. "WEE Camp allows educators to learn through direct, hands-on experience about trends, skill requirements, and opportunities in industries throughout Central Louisiana."
WEE Camp had two sessions this summer, both of which RoyOMartin helped host through offering informational presentations, job shadowing, and plant tours of its Chopin and Oakdale manufacturing facilities. While the program is largely facilitated on the jobsite by company human-resources and plant personnel, RoyOMartin safety professionals also had the opportunity to conduct safety training to WEE campers at The Orchard Foundation to kick off the program and prepare them for the variety of workplace conditions they might experience.
"It is our goal that WEE Camp participants leave with a better understanding of the skills necessary to be successful in jobs in our region so that they can implement this in their curriculum. This will, in turn, offer the students a greater appreciation of the subject matter," stated Dr. Marjorie Taylor, executive director of The Orchard Foundation. "Additionally, WEE Camp forms relationships between the teachers and the host employers, providing resources the teacher can call upon during the school year, such as resource speakers."
RoyOMartin appreciated the opportunity to showcase our team members, facilities, and future career opportunities during WEE Camp.