If you are searching for high-quality building materials in Arkansas, RoyOMartin can supply you with the right wood products for the job. From plywood to oriented strand board and solid wood, we provide sustainably sourced materials crafted for durable, lasting construction. Interested in finding the best materials for your project? Discover the quality RoyOMartin can deliver.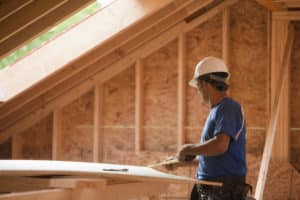 What Materials Does Our Business Offer?
RoyOMartin, founded by family patriarch Roy O. Martin, Sr., originated in 1923. Remains committed to providing companies with superior wood products through sustainable practices. RoyOMartin products feature Forest Stewardship Council (FSC) certification. This certification identifies our raw materials and indicates that we take the necessary steps to replace them. Here's what you can find through our business.
OSB
OSB, short for Oriented Strand Board, is an engineered wood panel used in many building projects. Shreds of wood become mixed with waterproof adhesive and laid together in various directions. Then, high pressure and heat bond these fibers together for a strong, water-resistant panel. For construction projects that require exceptional strength and warp resistance, these boards can offer a fantastic solution! At RoyOMartin, we supply four types of OSB building materials for projects in Arkansas and beyond.
Reach out to our experts to determine the right OSB panels for your project today!
Plywood
Plywood is another of our versatile building materials that can be utilized for your construction in Arkansas. Created by compressing thin sheets of wood veneer together with strong adhesive, plywood makes a durable and versatile wood material. This process can include a variety of materials, from hardwood to softwood. This material offers both strength and flexibility, making it a fantastic building material for outdoor or indoor walls, cabinets, roofing, flooring, and more. Find eight varieties of plywood at RoyOMartin.
GreenCore Plyform

pre-oiled panels provide a smoother finish beneath concrete.

SmartCore
Solid Wood
Solid wood is milled straight from trees rather than being engineered. This lumber has no fillers or adhesives. And, it provides strength and warp resistance. It is also much easier to repair than engineered panels. At RoyOMartin, we carry three solid wood building materials to assist in Arkansas construction projects.
Our solid wood boards, timbers, and landscape timbers can be treated, stained, or painted and used for a variety of interior and exterior purposes. Not sure which material is right for you? Our experts would love to consult with you on your project to find the best materials for the job.
Find the Right Building Materials for Your Job in Arkansas
Contact RoyOMartin, your premier source for high-quality building materials serving Arkansas, Texas, Louisiana, and beyond! Reach our sales team at 800-299-5174. Or, submit a customer service help request on our website. Your project requires the strongest, most trustworthy materials. Find them from RoyOMartin today!