The right underlayment can make all the difference when it comes to creating an attractive and durable finished flooring surface. However, there are some important factors to consider when choosing underlayment plywood, such as the type, grade, and thickness. To help ensure you're making the best decision for your project, let's take a closer look at types of plywood, what to consider when making your selection, and installation tips.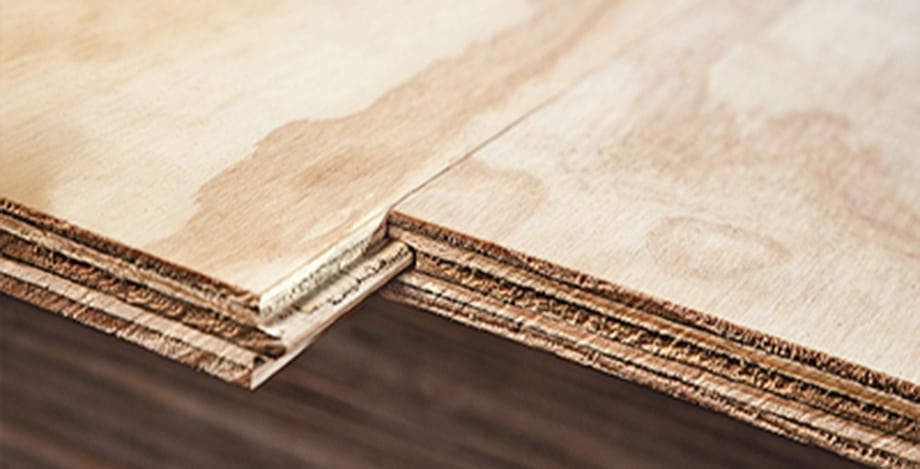 What Is Plywood Underlayment?
Plywood underlayment is a sheet of plywood that is installed as the subfloor, or over the subfloor before other flooring materials are installed. It is usually made from several layers of thin veneers of wood bonded together with a waterproof adhesive and used as a base layer for flooring, such as carpet, hardwood, laminate, or tile. This type of underlayment is designed to provide an even, level surface that is free from bumps and dips. As part of the assembly, it also helps reduce sound transmission between floors and helps protect the flooring material from moisture.
Why Would You Need a Plywood Underlayment?
Plywood underlayment is an important part of any flooring project. It provides a smooth, level surface for the installation of tile, hardwood, carpet, and other types of flooring. It also adds an extra layer of protection against moisture and helps reduce sound transmission between floors. If you're considering a flooring project, you should understand the benefits of plywood underlayment and how to choose the right type for your project. 
Are There Different Types Of Plywood Underlayment?
Yes, there are different types of plywood underlayment, including: 
Premium sanded: Because the surface is sanded, it provides for an even and smooth surface. Both RoyOMartin's

SmartCore AC Plywood

and

SmartCore BC Plywood

meets underlayment requirements.

 

Tongue-and-groove: This Sturd-I-Floor can also serve as an underlayment and features edges that firmly lock into place for a solid and sturdy subfloor that should prevent squeaking provided that proper installation practices are followed. RoyOMartin offers

SmartCore SIF Plywood

for easy tongue-and-groove installation. It is made of southern yellow pine for the greatest strength and stiffness, sanded for consistent thickness, and is available FSC® certified.
Each type has its own unique advantages and should be chosen based on the specific application.
How to Choose the Right Plywood Underlayment
When choosing plywood underlayment for your project, there are several factors to consider. You should look for a product that is made from high-quality materials. The plywood should be thick enough to provide a stable base for the flooring material. You should also check the manufacturer's instructions to make sure the product is suitable for the type of flooring you're installing. 
When selecting plywood underlayment, you should consider the type of flooring you are installing. Generally, there are five thicknesses in the following thickness categories: 1/4, 11/32, 15/32, 19/32 and 23/32. The thinner panels are often used for an underlayment under resilient flooring products in conjunction with a thicker subfloor, while thicker panels are used for hardwood and tile flooring. You should also consider the type of subfloor you are working with, as some subfloors may require thicker underlayment than others.
Installation Tips
Installing plywood underlayment is relatively straightforward. The first step is to prepare the subfloor by cleaning it and ensuring it is completely dry. Once the subfloor is ready, you can install the plywood underlayment. It is important to use the correct installation techniques to ensure the underlayment is installed correctly and securely. When installing, it is important to use the correct nails and screws. Nails should be driven into the subfloor at 90-degree angle and should be long enough to penetrate the subfloor. Screws should be driven into the plywood at a 90-degree angle and should also be long enough to penetrate the subfloor. 
It is also recommended to use adhesive important to ensure the underlayment is securely attached to the subfloor. Once installed, inspect it for any defects or damage. If any defects are found, they should be repaired before the finished flooring material is installed. Plywood underlayment is an important part of any flooring project and should be installed correctly to ensure the best results.
Patching is commonly required to achieve a smooth and adequately spaced finished surface.  Patches can be found in any home improvement store. 
Searching for Plywood Underlayment That Stands the Test of Time?
Planning and properly installing the correct underlayment material are key steps in achieving a beautifully finished flooring surface. If done well, the underlayment will stand strong for many years to come. RoyOMartin manufactures panels with superior strength, making them ideal for high-traffic environments, including commercial retail establishments, manufacturing warehouses, and institutional facilities. With all of this in mind, if you're looking for quality underlayment plywood materials you can rely on, look no further than RoyOMartin! Call 1-800-299-5174 or contact us online to learn more about our wood products. Build better with products from RoyOMartin!