When it's time to start your next project, it's only natural to want the best materials for the job. After all, families will depend on the homes you build—potentially for generations to come. And, you want to produce homes that leave clients satisfied and keep your reputation high. At RoyOMartin, we understand the importance of maintaining quality while keeping costs low. And, with WindBrace OSB wall sheathing, builders can do both! Learn why WindBrace OSB wall sheathing can be the right choice for homes built in harsh environments.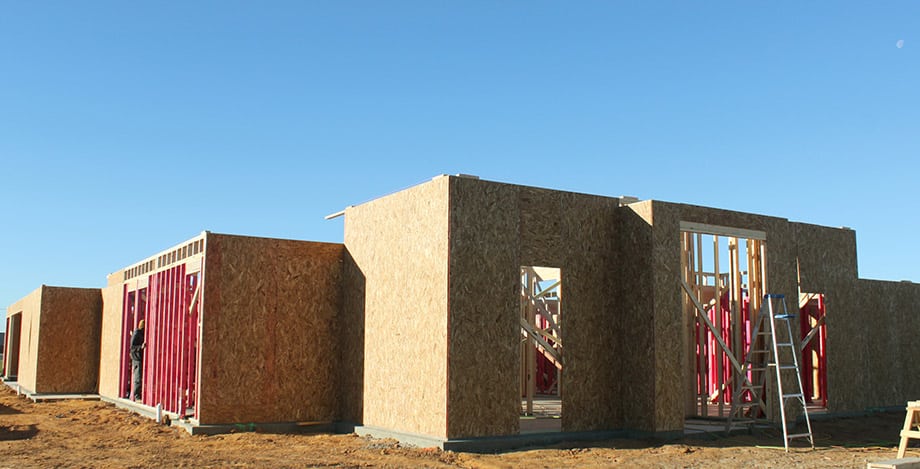 Which Projects Can Benefit the Most From WindBrace OSB Wall Sheathing?
WindBrace OSB wall sheathing is designed to strengthen and support the walls of homes built in areas with harsh weather conditions. Specifically, it is ideal for houses that may be exposed to high winds from tornadoes or hurricanes. In the recent Board Certified episode with Zach Zimmerman, Zach explored some of the excellent benefits WindBrace OSB wall sheathing provide for builders and homeowners. 
This includes providing extra protection for homes in the Central United States that are prone to tornadoes compared to standard sheathing materials. Additionally, WindBrace OSB makes a great choice for states in the South, Southeast, and across the Eastern Coast since these areas are often threatened by hurricanes. The added strength and durability of the sheathing material can help walls maintain their integrity in harsh weather conditions.
What Makes WindBrace OSB Wall Sheathing So Durable?
One of the key differences between WindBrace OSB wall sheathing and other wall sheathing materials is its length. By comparison, WindBrace OSB is a full 1 ⅛" longer than traditional panels. And this extra length is a big part of why WindBrace stands out from the competition in terms of price and performance.
The oversized panels provide greater wall strength without the need for horizontal joints. They also eliminate the need for uplift hardware, blocking, and filler strips. This cuts down on costs for builders, allowing them to skip the labor spent installing these materials as well as the money spent purchasing them. And, while building material costs remain volatile, purchasing a superior-quality product at a lower price than traditional options may be more important than ever.
Choose WindBrace OSB Wall Sheathing
Now that you understand why WindBrace OSB is such an excellent sheathing option, consider using these panels for your next project. Ask your engineer to design plans that incorporate WindBrace OSB sheathing for future projects. And, when you talk to your supplier, be sure to ask for WindBrace OSB sheathing by name. If you have any additional questions about WindBrace or any of RoyOMartin's other wood products, reach out to us at 800-299-5174 or email us at info@royomartin.com. Deliver the quality your customers expect at a more affordable price with WindBrace OSB sheathing.