Plywood is an easily accessible and multi-purpose wood panel. Softwood or hardwood fiber sheets are compressed with resin adhesive to create a strong, durable, and warp-resistant core. The outer layers of these boards are then veneered with a higher-grade wood sheet. This creates a finished appearance, though unfinished options are available as well. At RoyOMartin, we pride ourselves on delivering high-quality wood products for a variety of construction needs. Why should you trust our plywood manufacturers, and what plywood products can we provide?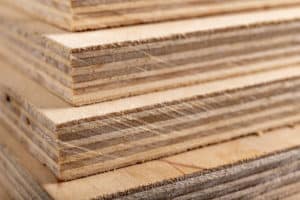 The Benefits of Plywood for Construction
Plywood is a versatile material used in furniture builds and general construction. The layering process of plywood contributes to its stability. Alternating the pattern of the wood grain in each layer distributes the strength and durability throughout the entire panel. While this product offers exceptional strength, it is also surprisingly lightweight. This is especially beneficial for furniture construction. This wood material is available in a variety of sizes and thicknesses for use in interior or exterior building applications. With wide sizing options available, plywood simplifies large projects by shortening cutting time and reducing gaps in the material during construction.
From subflooring to exterior wall sheathing, plywood is a widely used and deeply loved product. Finish panels with waterproof or fire-resistant treatments, or easily paint or sand them for an elegant finish. Whether you are seeking a product to add strength to your structures or to provide visual appeal to interior surfaces, plywood can satisfy a wide range of needs.
What Makes a Trustworthy Manufacturer?
When searching for the right plywood materials for your project, it is important to choose manufacturers with quality that you can trust. RoyOMartin was established in 1923. After nearly a century, this family business has grown into the largest panel supplier in Louisiana with a nationwide reach. Not only is our business dedicated to crafting the highest standard of wood products possible, but we also follow sustainable forestry practices to protect our land. Our products are Forest Stewardship Council® (FSC®) certified, meaning we identify and harvest each material from a sufficient source. If this is not possible, we replace the material with another sustainable wood resource.
What Plywood Products Can You Find at RoyOMartin?
For members of the construction industry searching for exceptional plywood products, look no further than our manufacturers. At RoyOMartin, we offer nine varieties of plywood. Each option is beneficial for several applications, from use under concrete for a smooth finish to decorative cuts for ceilings and wainscoting.
GreenCore Plyform is a pine plywood product. Use these 96" panels for walls, decks, and pillar surfaces beneath concrete. When concrete is laid over these boards, you can achieve a uniform finish with a strong and durable core. And due to the face quality of these panels, they also offer multiple reuses. SmartCore plywood offers many options for various applications. Use SmartCore Sturd-I-Floor underlayment beneath other flooring materials for residential or commercial construction. For exterior walls or utility buildings that face water and heat exposure, our SmartCore Pine Siding can provide added durability.
These are just three of our plywood materials. If you aren't sure which plywood is best for your construction needs, consult with our helpful associates to find the right material.
Choose the Plywood Manufacturers You Can Trust
From plywood to OSB and solid wood materials, RoyOMartin is one of Louisiana's trusted manufacturers of sustainable wood products. Reach out to our sales team today to discuss our products and discover the perfect material for your next project. Give us a call at 1-800-299- 5174, or send us a help request online to let us know more about your project. We look forward to exceeding your expectations with top-quality wood materials.