RADIANT BARRIER: MADE IN THE SHADE
It's summertime in the South, and this is a superbly hot one. Drastic heat-wave temps are hitting the Northeast. It's just always hot in the South, so we don't make the news. Not only can we fry an egg on the sidewalk, I do believe we can also roast chicken in the mailbox.
Imagine a construction site in this 95-degree heat…I can't even. If there's a way to cut labor time and quickly get back to A/C, framers and anyone standing on the jobsite are listening.
Radiant barrier is a building product proving to be a refuge for workers in this heat. Once that roof goes up, everyone is inside. Why? It can get up to thirty degrees cooler under that radiant barrier roof. We think of radiant barrier as an energy saver for the homeowner, and it is a significant one. But it's also a fan favorite of framers who are building homes in July and August just about anywhere in the country.
SWEAT LESS: HANG 10′ ON THE ROOF
No one wants to work and sweat unnecessarily in this heat, so work efficiency is a must. In these temps, framers will take all the shortcuts they can, and who can blame them? Thankfully, there are proven, safe, labor-saving installation methods that save time and reduce waste. Instead of installing 8' panels on the roof, replace with 10' OSB radiant barrier panels.
Why opt for extended-length OSB panels on the roof?

The area covered by a single board jumps from 32 sq. ft. to 40 sq. ft.

Less cutting, less waste

Quicker fastening: With fewer ends, there are fewer joints to be fastened.

More time saved to move onto the next project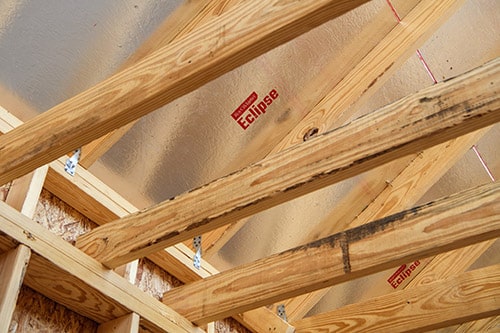 COST SAVINGS
Using fewer panels not only results in less cutting and less waste, but also translates into cost savings. Ten-foot panels on the roof can shave as much as 10% off the cost of boards alone. Produced more efficiently by the manufacturer, 10' panels are, therefore, typically sold at a reduced price per square foot, compared to traditional 8' lengths. Fewer panels can also create a more aesthetically pleasing product (fewer joints) and save 20% in labor (fewer panels = less work, less sweat. You're welcome.).
ROYOMARTIN'S ECLIPSE™ OSB RADIANT BARRIER MORE READILY AVAILABLE
No one likes waiting. With RoyOMartin's efficient and unique manufacturing process, an added benefit of our 10' Eclipse™ OSB Radiant Barrier panels is that they are more readily available than 8'. Your supplier being short of panels for that urgent job won't be a problem.
"RoyOMartin's OSB facilities are two of the few in the United States that can produce 9' and 10' panels. These longer panels provide efficiency improvements for both builders and the manufacturing process. Anytime the press can produce extended-length panels, our productivity increases by 8% in the same amount of time as producing 8' panels. The more production that can be made in an hour, day, week, or year, the more product we have available for customers." -Terry Secrest, Vice President of OSB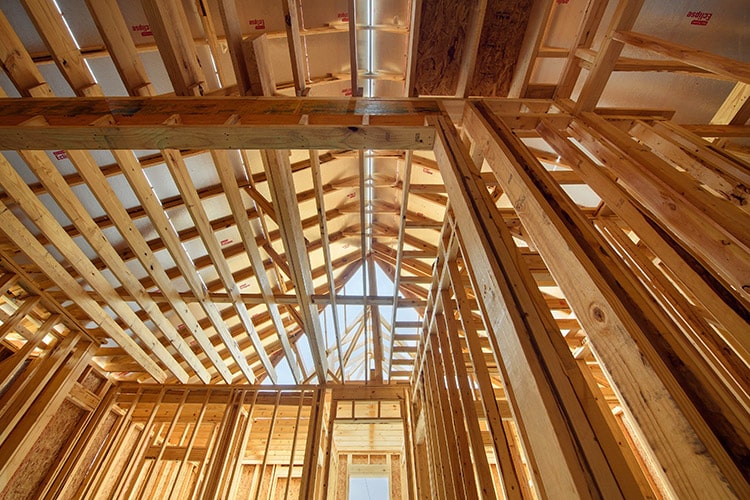 99 PROBLEMS BUT ROOFING AIN'T ONE
Let your products work for you. Install 10' radiant barrier instead of 8' non-radiant barrier panels and cut the waste and the extra effort. Save that sweat equity and energy; work smarter and more efficiently for a better result all around. Your framers and homeowners will thank you.
RoyOMartin is the low-cost producer of OSB products. Ask your building-products supplier for Eclipse™ OSB Radiant Barrier and TuffStrand®XL OSB in 9′ and 10′ lengths.
—Amanda M. Vincent, Sales Representative