Oriented Strand Board Manufacturing in Corrigan, TX
Martco L.L.C., located in Oakdale, Louisiana, is adding a second oriented strand board (OSB) mill in Corrigan, Texas! Construction is slated to begin in 2021 with completion by 2023. This establishment greatly impacts the local Texas economy and helps to meet the demand for high-quality, sustainable wood products. Senator Robert Nichols looks forward to the opening of the plant. He states that it could have a great economic impact as "the additional investment would create even more well-paying jobs" for the people of Texas.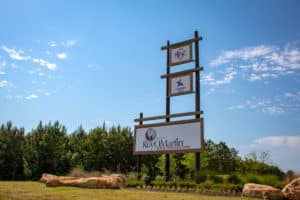 As well as aiding employment rates amid the fast-expanding population of Texas, the addition of the second Corrigan OSB mill can help the housing industry. This new mill would increase the production of OSB, a traditional product used in house and business construction. These OSB panels and wood products will be RoyOMartin marketed. E. Scott Poole, the president of RoyOMartin, says that this new plant could be a key factor in meeting "the backlog of demand for quality building products, produced from renewable, sustainable resources abundant in our region."
More About Corrigan OSB, L.L.C.
The current OSB plant in Corrigan, TX was established in 2017. It is owned by Martco L.L.C. and carries the trusted RoyOMartin trademark. The plant employs 165 workers and upholds the highest standards of quality and safety. The quality wood products produced in this facility include Eclipse OSB Radiant Barrier, TuffStrand & TuffStrand XL extended-length panels, WindBrace panels, and StructWall & StructWallXL panels. Our wood products are essential in builds looking for structural integrity and strength against environmental factors such as hurricanes and seismic activity.
Expanding for the Future With RoyOMartin
RoyOMartin believes in ethically sourcing and producing the greatest quality wood materials possible. Our company values people, both within our team and on the other side of each project. From workers and salesmen to the families and business people occupying buildings constructed with our materials, we ensure that our products meet the highest safety and ethical standards. If you would like to learn more about our company or our new plant, please don't hesitate to reach out to us. Send us a message through our website. We look forward to introducing another plant to the great state of Texas and expanding employment and housing opportunities.
Find out more info here: https://www.building-products.com/article/martco-adding-second-osb-mill-in-texas/