Oriented Strand Board (OSB) is a well-loved and widely used wood product in construction. This engineered wood panel compresses cross-oriented wood strands with a waterproof adhesive to form a durable, warp-resistant board. Rather than letting more unsightly, deformed trees go to waste, they are cut into strands and used in creating planks of OSB. This lightweight product is incorporated into structural and non-structural production, from roofing to sheathing. Are you ready to find the right OSB for your construction needs? Here's what we carry at RoyOMartin.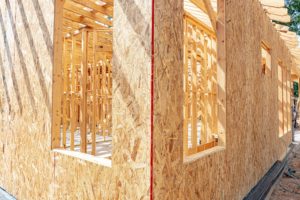 Eclipse OSB Radiant Barrier
For a cost- and energy-effective option for roof sheathing, choose the Eclipse OSB Radiant Barrier panels. These panels help to drastically reduce temperatures in attics and roofing. This makes them a great solution for lowering energy bills. This OSB is available in lengths of 96 or 120 nominal inches and 48-inch widths. Choose the perfect performance category thickness for your project: 7/16, 15/32, 1/2, or 19/32. 
WindBrace
The WindBrace OSB sheathing is a fantastic option for sidewall. These oversized panels provide greater strength and wall height without the need for piecing together various lengths. This OSB comes in a width of 48 nominal inches and four length options in inches: 97 ⅛, 109 ⅛, 121 ⅛, 145 ⅛. These boards also come in several performance category thicknesses. Contact us today to find the right option for you!
TuffStrand
TuffStrand and TuffStrandXL OSB panels give you even more length and durability. This strong board can withstand high, constant winds with stability and integrity. These extended panels are available in 9- and 10-foot lengths, or 96, 108, and 120 nominal inches. Like our other boards, the TuffStrand OSB is available in 46-inch widths. For your thickness, choose from 7/16, 15/32, or 19/32 performance categories.
StructWall
For our final variety of OSB boards, we offer StructWall and StructWallXL panels for top-quality strength and deflection resistance. This sheathing offers great strength, shock absorption, and stability. These factors help them to withstand seismic activity. StructWall and StructWallXL boards come in widths of 48 nominal inches. Choose your perfect length of 96, 108, or 120 nominal inches. This OSB is also available in two performance category thicknesses: 15/32 or 19/32.
Choose Oriented Strand Board for Your Next Building Project!
At RoyOMartin, we are dedicated to supplying products that are environmentally sourced. And, they come from managed and maintained forests. Each of our wood products is certified by the Forest Stewardship Council (FSC). This means that we can report how and where our materials were sourced to ensure that they comply with FSC standards. From oriented strand board to timber and wood chips, you can find the highest quality woods from a company that cares about their environmental impact. If you are ready to find the right materials for your next project, give us a call today at 800-299-5174. Or, message our customer service to let us know how we can assist. We look forward to sharing our American-made products with you!