You deserve a wood that can handle your particular project. As a type of engineered wood, oriented strand board (OSB) is tough, affordable, and reliable. Builders also love OSB for its economy and versatility. Find out more about the OSB options at RoyOMartin. 
How Oriented Strand Board Is Made
Some builders might not differentiate between OSB and plywood—and an oriented strand board (OSB) IS similar to a particle board. However, OSB's manufacturing process makes it more prized for its toughness and affordability. To make our OSB as strong as possible, RoyOMartin arranges the wood strands in specific orientations. (And that just so happens to be the origin of the name "oriented strand.") Then, we add adhesives and compress these layers of wood strands. 
In addition to strength, the orientation creates more uniformity. That means you'll get more reliable and better-looking results. Don't settle for typical particle board or flex board replacements when you need OSB to do the job right.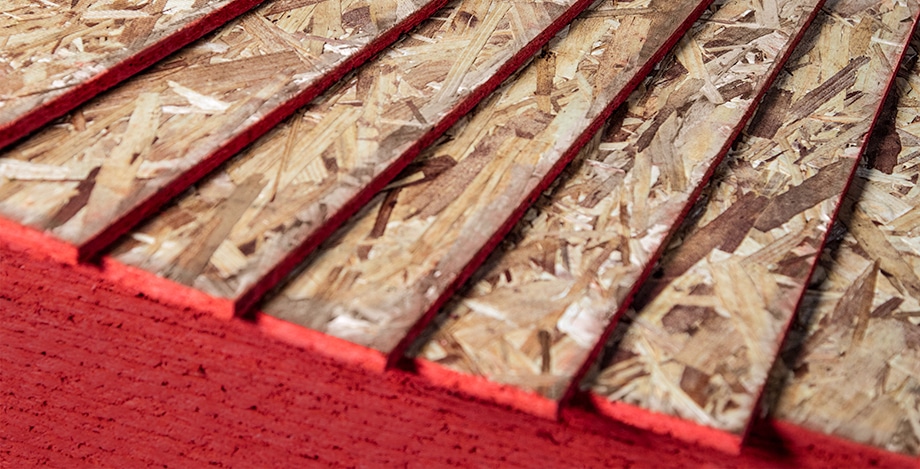 RoyOMartin's OSB Products
Because no matter your climate, project, or application, there's an OSB product to meet your needs. And remember—RoyOMartin manufactures all of our products with the strength and aesthetics of southern yellow pine. 
Eclipse OSB Radiant Barrier
Energy-efficiency and cost-effectiveness often go hand in hand. Eclipse OSB Radiant Barrier roof sheathing can lower utility bills. Additionally, its class "B" fire rating further improves its performance capabilities. 
WindBrace
Do you need added strength and protection against high winds?  WindBrace® OSB Wall Sheathing meets the highest standards of wind protection. What's more, a longer length saves you cost and labor. You won't need additional hardware, blocking, or filler strips. 
TuffStrand/TuffStrand XL
Save time, labor, and material costs. TuffStrand and TuffStrand XL provide the excellent stability and surface uniformity you expect out of OSB. And you can get all of that in two different lengths of panels. You'll also appreciate its skid-resistant finish. 
StructWall/StructWall XL
StructWall and StructWallXL are some of the most versatile OSB options. Use it for roof sheathing, wall sheathing, and sub-floor. Furthermore, it's a structural one rated panel, so it meets the strictest building codes for earthquake-prone areas. 
Forest Stewardship Council® (FSC®) Certified
Protect the future while building from the present. You can help protect forests for the generations that come after us. All of RoyMartin's products are available as Forest Stewardship Council® (FSC®) certified. Using products with this certification means the wood came from responsibly managed forests. Moreover, when products meet these criteria, the benefits extend beyond the environmental. FSC-certification also helps the society at large, and therefore the economy in general. Make your building choices mean something.  
Engineered Wood That's Engineered To Meet Your Needs 
Do you have a building project coming up? Get in touch with RoyOMartin by filling out our online form, calling us at 800-299-5174, or sending an email to info@royomartin.com. Founded in 1923, our company has been part of the timber industry for nearly 100 years. During all this time, we're dedicated to our customers, industry, and community. When you choose RoyOMartin, you're choosing quality, sustainability, and affordability.